1. This Illume Balsam & Cedar candle. Brian and I both share a love for candles, especially holiday scented ones. He's very particular about his peppermint scented candles, and I'm partial to a good fir tree scent. This candle is small but STRONG, to the point that I had to open some windows because the scent was overpowering in our office after several hours. So, don't light it and leave it burning forever - a little goes a long way.

Probably my favorite thing about it is how pretty it is! So fancy. It would make a great hostess Christmas gift.

2. Book Club.
I'm looking at the book we just started reading now, and looking forward to curling up with it later today. I started a book club at work with four other girls, meeting over lunch on Thursdays. We finished our first book, "
Where'd You Go Bernadette
," and all of us greatly enjoyed it. Now I understand what "dramedy" means. It's funny, sweet, and poignant, and the mystery really sucks you in. We've just started "
All The Light We Cannot See,
" and even though we're not too far into it, it's so beautifully written, I feel like I can already recommend it.
3. I know I talk about Chatbooks all the time, BUT did you see that now you can make a special
Christmas Chatbook
with Rifle Paper Co. Christmas illustrations? Get your first book free by
clicking here
.
4. I talked about this little sign in my last Friday Finds, but
here's a shop on Etsy
that sells
hand painted signs
along a similar line. I love the dark wood backgrounds on some of these, as well as the Esther verse sign.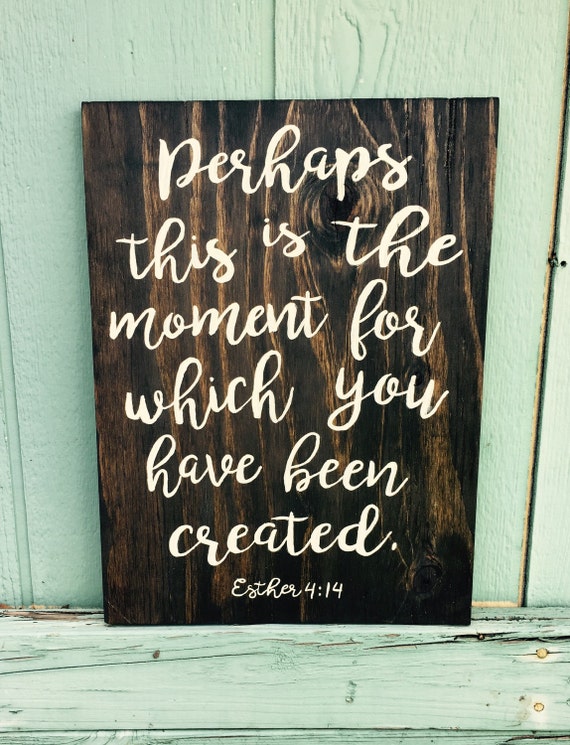 5. Tailwind.
I figured I'd include this, since it's on my computer, which is on my desk. If you're a blogger, listen up. You know how much you don't like to pin a bunch of images all in one shot, but it's so much work to try to schedule them? Tailwind is a tool that allows you to save images from anywhere and add them to a queue to be automatically pinned to Pinterest. That way, you're not annoying your followers by flooding their feeds, plus, it's a lot less work for you - it's super easy to add pins to your queue at any time.
Those are my #FridayFinds! Happy Friday!
*Some links in this post are affiliate links. Thanks for supporting Scribbles From Emily!
Labels: Beauty Find Friday, Five Friday Finds