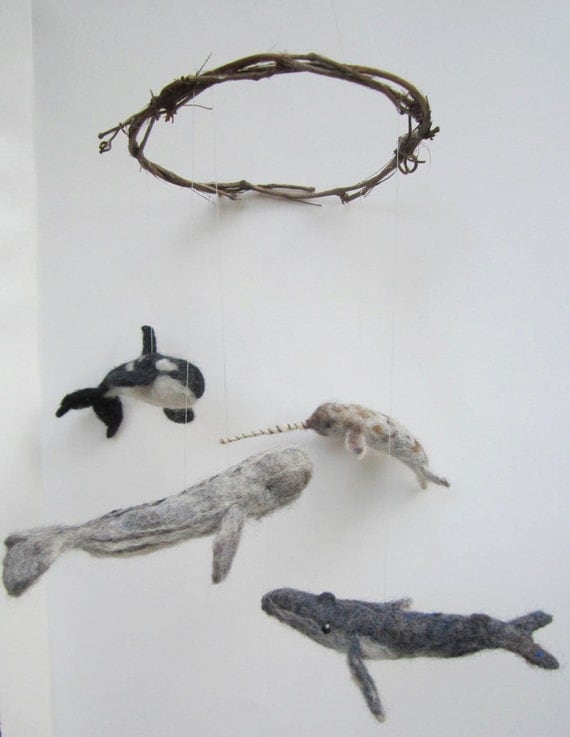 But as amazing as it is, $115 was a little outside of my budget ... just a little. And it's now sold out.
There were lots of other mobiles on Etsy, Target had one that fit the sea theme, and I almost bought a shell mobile while
we were in California
at one of the shops. Ultimately, I decided I wanted to make something. And when I found this idea on Pinterest, I knew it was just the right level of easy and awesome.

You will need:


Three paper lanterns. I bought this pack of three on Amazon for $9.99. I like that they're lacy, which allows the light to shine through even better.
Hot glue gun.
Glue sticks that fit your glue gun (anyone want a big package of already opened glue sticks that didn't fit my glue gun? Lesson learned).
Pillow batting. I bought a small bag of batting at JoAnns, and still have plenty left to make some pillows.
LED Hanging lights. You'll need LED lights, because they don't get hot, so there's no fire hazard. I bought this three pack on Amazon for $20, mainly because I wanted the convenience of the remote control to turn them off and on. This one also allows you to adjust the brightness, and can flash slowly or quickly. I highly recommend it!
String for hanging. Do not use thread - once you add the lights, these lanterns aren't super light. Whether you're using fishing line or string, make sure it's strong enough to hold them up.
Ceiling hook for hanging. We bought a package of two at Home Depot for around $2.
Step one: Fluff and glue. Once your glue gun is hot, squiggle some glue on the lantern. Grab a tuft of batting, and press it onto the lantern before the glue hardens. Work in small areas, fluffing and shaping as you go.
You don't want to make the batting too thick, or the light won't shine through as well, but don't be stingy either if you want nice fluffy summertime clouds. Make sure you get the surface well covered, and add extra thickness where you want it.
It helps to hang them up temporarily so you can see them from all angles.
Step two: lights, action. The lights I bought came with a lot of elastic string for hanging. I kept it mostly wound up, and left just a loop for hanging from the lantern.
Oh, and make sure you put batteries in the lights before you hang them up, and test the remote.
Step four: up, up and away. Install the hook in your ceiling - Brian did this for me, so I'm not sure of the exact steps, but it didn't take very long, and there will probably be instructions on the package.
Using the strong string or fishing line mentioned above, tie the lanterns to each other at about equal distances, and then to the hook in the ceiling.
Step five: glow time! Turn off all the lights and watch them glow.
Then try the different flashing speeds on the remote to create a little thunderstorm.
Ta-da!
There's lots of ways to adapt this - a bunch of these hung at different heights makes a great wedding photo backdrop, you can hang multiple hooks in your ceiling to adjust the cloud layout and add a rainbow for a child's bedroom, they would look great hanging over tables at a "twinkle-twinkle little star" themed baby shower, you can add
battery string lights for light up rain
- so many ideas!
Where would you use these? Comment below with your ideas, and let me know if you try this at home!
Labels: Baby, clouds, craft, create, DIY, light up, mobile, tutorial