5. The
Electric Cord for Paper Lanterns
, which enables hanging them from the ceiling, is $8.47, and Amazon also has many inexpensive options for
paper lantern string lights
, ranging from $4.50-$19.99.
Curtains.
Hanging curtains instantly adds a homey feel! All you'll need are a couple panels (be sure to read the package, the picture on the front may show two panels but only contain one) and suspension rods.
6. And don't think windows are the only place your curtains can go:
hide your clothes and shoes
from view by hanging one over your closet, or
create a private study space
by hanging one around your desk, under your loft, or to cover up blank white walls.
7. Splurge:
Curtains at Walmart are about $15 a panel, and suspension rods are around $10.
8. Budget:
You can make your own curtains for
much
less
out of sheets
! With some
craft paint and a simple stamp
, you're in business! Minimal crafting skill necessary.
Frame It.
Because dorms and many apartments don't allow nails in the wall, you'll have to get creative.
9. For this look, attach these
clear adhesive key hooks
to the wall. Cut and tie ribbons to your picture frames, alternating the length, and hang from the hooks. For a different look, alternate colors with the ribbon to match your decor, or use twine for a rustic/vintage feel.
10. Splurge:
Get one (or a few) of these wire letters to hold photos and memorabilia. $15.50 each from
Pottery Barn.
11. Budget:
With cardboard letters and
Mod Podge
, you can make your own letter art! Mod Podge photos, scrapbook paper, or fabric to the letter for a one of a kind collage. For a step by step tutorial, follow along with
Katie
in this tutorial for making
Mod Podged Paper Mache Letters
.
Wallcoverings.
You can't leave any trace, so you'll have to get creative.
12. Splurge:
There is such a thing as removable wall paper! How cute is this
speckled wall paper
from Chasing Paper for $35 a roll?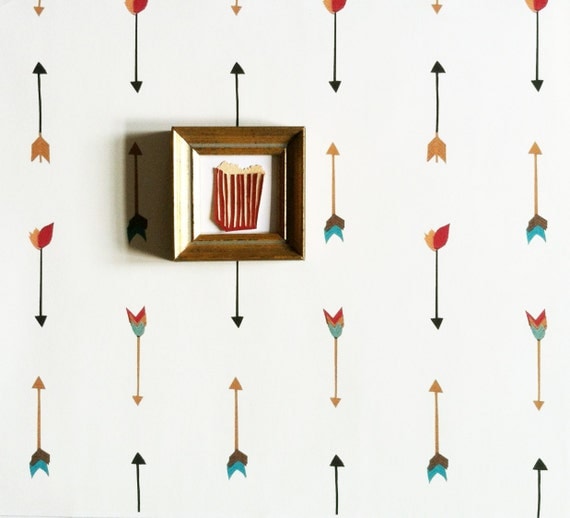 13. Budget:
Add some accents to your wall, like
gold dots
or
gold triangles
. Or for even less, buy
metallic contact paper
and cut out your own shapes! Then you'll have enough left over for some of the other projects mentioned later in this post.